In the Management Console of the Cloud Failover Appliance (CFA), go to Clients › Hyper-V.

On the actions toolbar, click View Connections.

The View Hyper-V Connections dialog opens.

The dialog shows the available Hyper-V connections. Information in the dialog is presented in the table format with the following columns:

| Column | Description |
| --- | --- |
| Description | Custom description of the connection |
| Address | IP address of the connected Hyper-V host |
| Port | Number of the port used for communication between the Hyper-V host and the CFA |
| VM Count | Number of virtual machines (VMs) available via the connection |
| Connected | Indicates if the Hyper-V host is connected and available, or not |
| Cluster Fqdn | Fully qualified domain name of the Hyper-V host |
To manage a Hyper-V connection, right-click the connection to open the context menu with the available actions.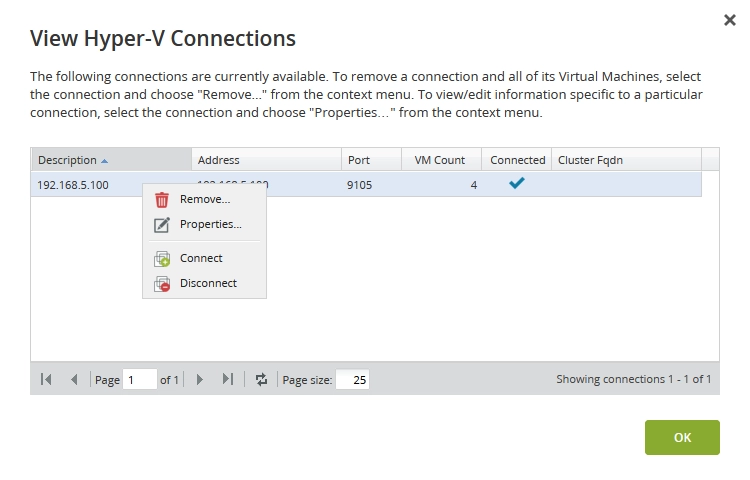 | Action | Description |
| --- | --- |
| Remove | Remove the connection, associated VMs and their clients, and associated backup jobs (optionally) from the CFA |
| Properties | View and edit the connection properties. To edit properties, you must first deactivate the connection—click Disconnect. |
| Connect | Activate the connection if it is inactive |
| Disconnect | Deactivate the connection if it is active |